DS 3: Temporary puncture repair kit / Checking/adjusting tyre pressures
DS 3 2016-2022 Owners Manual
The compressor can be used, without injecting sealant, to check and, if necessary, adjust the tyre pressures.
Remove the valve cap from the tyre and keep it in a clean place.
Uncoil the pipe stowed under the compressor.
Screw the pipe onto the valve and tighten firmly.
Check that the compressor switch is in position "O".
Fully uncoil the electric cable stowed under the compressor.
Connect the compressor's electric plug to the vehicle's 12 V socket.
Switch the ignition on.
Start the compressor by placing the switch at position "I" and adjust the pressure to the value shown on the vehicle's tyre pressure label. To deflate: press the black button located on the compressor pipe, near the valve connection.

If after 7 minutes the pressure of 2 bar is not reached, the tyre is damaged; contact a dealer or a qualified workshop for assistance.
Once the correct pressure is reached, put the switch in position "O".
Remove the kit and stow it.
Refit the cap on the valve.

Should the pressure of one or more tyres be adjusted, it is necessary to reinitialise the under-inflation detection system. For more information on Tyre under-inflation detection, refer to the corresponding section.
Do not remove any foreign bodies (e.g. nail, screw) which have penetrated into the tyre. Park the vehicle without obstructing traffic and apply the parking brake...
Scan the QR Code on page 3 to view explanatory videos. For more information on the Tool kit, refer to the corresponding section...
Other information:
Left or right: lower or raise the lighting control stalk, beyond the point of resistance. If you keep the direction indicators on for more than 20 seconds, the volume of the audible signal will increase if the speed is above 50 mph (80 km/h). Three flashes Press briefly upwards or downwards, without going beyond the point of resistance; the direction indicators will flash 3 times...
GPS navigation - Applications - Multimedia audio system - Bluetooth® telephone The functions and settings described vary according to the vehicle version and configuration, as well as the country of sale. For safety reasons and because they require sustained attention by the driver, the following operations must be carried out with the vehicle stationary and the ignition on: Pairing ..
Categories
This digital instrument panel can be customised. Depending on the display mode selected, certain information is hidden or presented differently.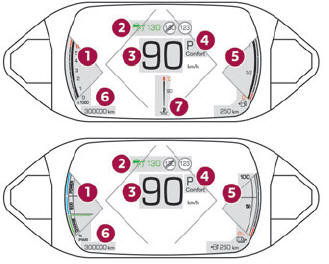 Rev counter (x 1000 rpm) (Petrol or Diesel)