DS 3: Temporary puncture repair kit / Checking/adjusting tyre pressures
DS 3 2016-2023 Owners Manual
The compressor can be used, without injecting sealant, to check and, if necessary, adjust the tyre pressures.
Remove the valve cap from the tyre and keep it in a clean place.
Uncoil the pipe stowed under the compressor.
Screw the pipe onto the valve and tighten firmly.
Check that the compressor switch is in position "O".
Fully uncoil the electric cable stowed under the compressor.
Connect the compressor's electric plug to the vehicle's 12 V socket.
Switch the ignition on.
Start the compressor by placing the switch at position "I" and adjust the pressure to the value shown on the vehicle's tyre pressure label. To deflate: press the black button located on the compressor pipe, near the valve connection.

If after 7 minutes the pressure of 2 bar is not reached, the tyre is damaged; contact a dealer or a qualified workshop for assistance.
Once the correct pressure is reached, put the switch in position "O".
Remove the kit and stow it.
Refit the cap on the valve.

Should the pressure of one or more tyres be adjusted, it is necessary to reinitialise the under-inflation detection system. For more information on Tyre under-inflation detection, refer to the corresponding section.
Do not remove any foreign bodies (e.g. nail, screw) which have penetrated into the tyre. Park the vehicle without obstructing traffic and apply the parking brake...
Scan the QR Code on page 3 to view explanatory videos. For more information on the Tool kit, refer to the corresponding section...
Other information:
The system goes into standby automatically in the following cases: ESC deactivated or operation triggered. Speed below 43 mph (70 km/h) or greater than 112 mph (180 km/h), Electrical connection of a trailer. Use of a"space-saver" spare wheel detected (as detection is not immediate, deactivation of the system is recommended). Dynamic driving style detected, pressure on the brake or a..
They have two positions: A high position, for when the seat is in use: Pull the head restraint fully up. A low position, for stowing, when the seat is not in use: Press the lug A to release the head restraint and push it down. The rear head restraints can be removed. Removing a head restraint Release the backrest using control 1. Tilt the backrest slightly forwards. Pull..
Categories
This digital instrument panel can be customised. Depending on the display mode selected, certain information is hidden or presented differently.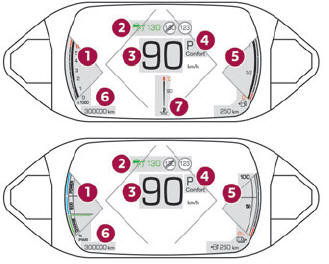 Rev counter (x 1000 rpm) (Petrol or Diesel)