DS 3: Safety / Advanced Traction Control
DS 3 2016-2022 Owners Manual
This special patented traction control system improves grip on snow, mud and sand.

For optimum grip on snow, it is recommended that you fit the vehicle with winter tyres.
For optimum system performance, contact a dealer to choose the most suitable tyres.
Activation/Deactivation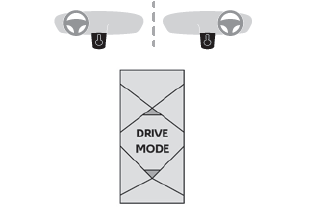 Press the DRIVE MODE button; the various modes are displayed on the instrument panel.
Select "Snow", "Mud" or "Sand" depending on the context.
The chosen mode continues to be displayed in the instrument panel.
To deactivate, select "Normal" mode or any other driving mode.
The system is automatically deactivated when the ignition is switched off.
Operating modes
Snow
This mode constantly adapts the level of wheel spin to offer maximum traction according to the snow conditions (a lot of wheel spin in thick snow; very little on ice). The wheel spin is also adapted to the conditions encountered when driving uphill by optimising the acceleration of the vehicle.
(mode active up to 50 mph (80 km/h))
Mud
This mode, when moving off, allows considerable spin on the wheel with the least grip to optimise clearing of the mud and to regain grip. At the same time, the wheel with the most grip is controlled in such a way as to transmit as much traction torque as possible.
When moving, the system optimises wheel spin to respond to the driver's requirements as fully as possible.
(mode active up to 31 mph (50 km/h))
Sand
This mode allows little spin on the two driving wheels at the same time to allow the vehicle to move forward and limit the risks of getting stuck in the sand.
(mode active up to 75 mph (120 km/h))

Do not use the other modes on sand as the vehicle may become stuck.

Recommendations
The vehicle is designed principally to drive on tarmac roads, but it may occassionally drive on other less passable terrain.
However, it does not permit off-road driving:
Driving on terrain that can damage the underbody or tear off elements (e.g. fuel pipe, fuel cooler) by obstacles or stones in particular.
Driving on terrain with steep gradients and poor grip.
Crossing a waterway.